never truly alone
i have been surrounded by hundreds of people the past few nights. about a couple of dozen of them i hug. a few more than that, i have had short conversations.
but i always end up lonely.
and i am not talking about "without a man" lonely. that is not the case. a woman can feel lonely with a man too. i am meaning the kind of connection where outside the smoke, outside the booze, outside the live music and electricity in the air, a connection where two people connect and be like "yea, i know what you mean."
luckily,
vanessa
was there for me. she swooped me up and over wahoo's steak nachos, we talked... and talked.. and i purged... and eventually felt better. i wanted to share my experience, process them, assess them with someone other than the voices in my head.
and i just missed the talks. the
bc
women are in their different realms, solidifying their world. much love and support to them but i truly do miss them.
and tonight, i had my roommate mitzi. we went to the
temple bar
to watch
meshell ndegeocello
play bass for a band called black gold. every damn body came out for this. it was mass lovely. sy smith and
medusa
came on and did a set. tonight was the very thing that i needed to get myself ready for more inspiration, more great energy, and more trailblazing.
and after all that is said and done, i give thanks and praise to the Almighty. i really am not alone. whenever i do feel lonely, it never fails that someone, somewhere comes out of the woodworks and keeps me company, whether it be a phone call, an email, a visit to my door, or just meeting new folks. give thanks...
catching up
not too long ago, gabe from
abyssinian creole
came by with sista onion and
ricanstruction
, a progressive puerto rican punk group from nyc. they had a westcoast tour not too long ago and i was blessed enough to meet up with gabe, spend time with him and meet the whole crew.
love and revolution... such a lovely combination. they work very well together...

this is gabe. he and his crew stayed with me during the last bboy summit here in los angeles. they are going to drop their vinyl out soon so be prepared! it's the hot ish!

and this be the homegirl, onion. she is organizing in getting a grassroots book published. its a collection of letters from women in hip hop to the female youth.

notforprophet with the vocals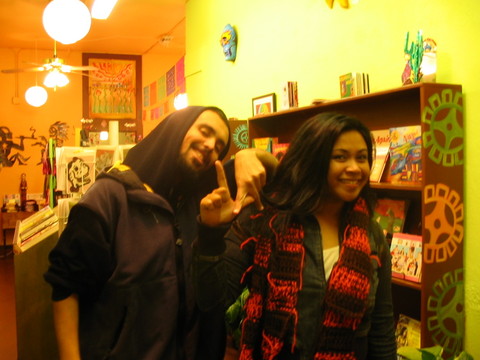 had to put this in. it was toooo cute. gabe and i reppin' los angeles at imix bookstore
aaaaaand... i was blessed with the honor to design the back of ab creole's album.
angel
rocks the cover album. (check out her site! she comes sick with it!!!)
and i contributed this...