The Lumpia Project:
Since there is no real solid recipe for lumpia, the lumpia project is an experimental cooking challenge to explore the different ways we can make the dish. It is for fun, to encourage cooking at home, to celebrate Pilipino cuisine, and to start making recipes to pass down the family generations that will come after us.
It all started with the holidays, and this secret belief that everybody is conspiring to give me diabetes.
I was surrounded with sweets - cookies, pastries, short bread, brownies, danishes, chocolate chocolate chocolate.
It was enough to turn this sweet tooth sour.
So when the opportunity came up to make something for the office, I decided to make something savory - Lumpia.
Lumpia, to make it simplified, is a Pilipino version of the eggroll.
Now, there is no real way to make lumpia. The beauty of lumpia is that it is based on what your parents made, and what their parents made, and so on and so forth. It is influenced by the region, and the spices that were available. It is referenced as what you remember as a child and what you comforts you. It's love, tedious love (because it is a bitch to make) wrapped in a flakey shell.
That's why Filipinos sometimes don't like another Filipino's lumpia because it has to meet that "Just-like-what-mom-used-to-make" factor.
It is very much like how in Ratatouille, when Ego tasted Remy's dish for the first time, it reminded him of his childhood.
So I brought two kinds of lumpia to work - beef mushroom and turkey shrimp. People loved it and it led to people stopping by my desk and talking about how they were introduced to Pilipino cuisine and what they loved about it.
Which made me type out on my facebook status: "Alfie wonders, "hmmm... bacon-wrapped lumpia?"
and after leaving my desk for a second and coming back, I found 30 responses to the status update!!
It is only right to experiment, right?
The turkey bacon:
My sister doesn't eat red meat so I made a turkey version of it.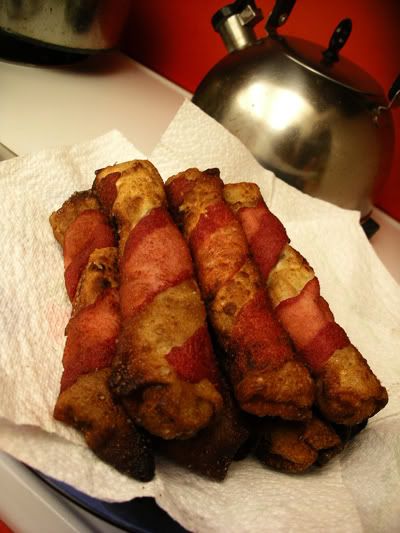 It's simple. Ground turkey, green beans julian sliced, carrots cut into small pieces, water chestnuts, baby shrimp, lots of garlic and onions, hoisen sauce to sweeten it, soy sauce to salt it, pepper.
Then I wrapped the lumpia with the turkey bacon and I am hella happy! The bacon is more meaty and just adds another layer of crunch. It's not as fatty as I thought it would be and it fried just about the same time as the wrapper did.
The pork bacon:
Now, being a bit more confident, I decided to try using pork bacon- hickory-smoked, maple bacon to be exact.
My whole worry of the lumpia is cooking it properly.
Some folks wrap the filling raw, cooking it when they deep fry. I have way too many factors to think of, so I cook my filling first, seasoning it just the way I like it.
Wrapping the lumpia is meditating and a pain. I believe that by the age of 12, a Filipino is an expert lumpia wrapper because their parents recruit them in the lumpia making process. It's like some unwritten law. "Alfieeee, Alleeeen, Anaaaa- stop playing video games and come wrap this lumpia."
Now before I wrap the bacon around the lumpia, I want to make sure it will be cooking the same time as the lumpia when I fry it in the wok. I microwaved the bacon for 30 secs, just enough to get it started but still be flexible to wrap.
No need to use toothpicks to pin them down; the bacon sticks to the wrapper nicely.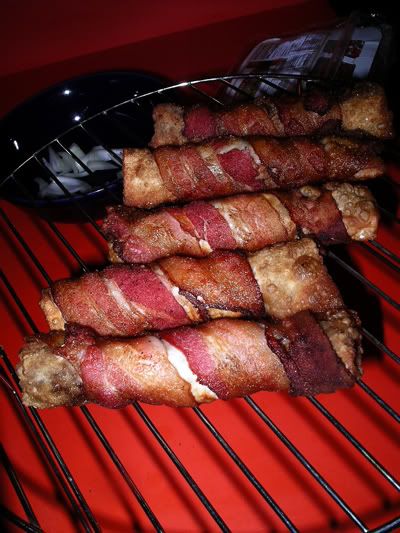 The next problem I came across is that the bacon shrinks so it tends to tighten around the lumpia, making them mis-shape a bit.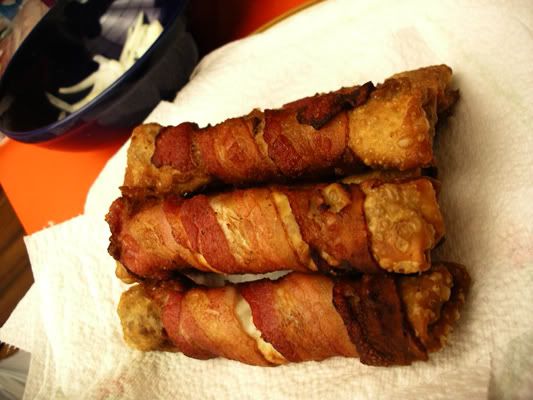 The whole lumpia is cooked, and I found that the bacon didn't over come the taste of the beef filling. In fact, it added a nice extra crunch and taste that went with the filling.
To accompany the lumpia, I made a dipping sauce made with apple cider vinegar, onions, garlic powder (too lazy to cut fresh garlic at this point), pepper, and crushed red peppers.
and if I do say so myself- IT'S SOOOOOOO GOOD! I seriously had to walk away from them. I am packing them up and giving them away to friends.
So experiment 1 and 2 were successful. I did learn a couple of things...
- Never going to deep fry in olive oil. It burns too quickly and doesn't taste right. Plus it is too expensive to use it for that. Vegetable oil will suffice.
- Although my mom used this when we were kids, I am not using wonton wrappers. It puffs up too much, is too thick for the meat filling and is a sponge to the oil.
- In my pics you noticed that I used eggroll/spring roll wrappers. Again, not as delicately thin and flakey like lumpia wrapper so make sure you buy the right kind. (Although, I am pretty fine with what I used. It just has more of a consistancy of an eggroll than a traditional lumpia.)
Now time to really experiment with the filling!
To be continued...