Arnie and Christel, who runs a food blog and close friends of mine took me to Lucques as a Christmas present. I'm always excited of where they take me because I know they have done pretty extensive research on the places they take me.

As a designer and artist, I appreciate the ambiance of the place. Walking through a vine covered building facade, you enter a cozy dining area with strong lines and clean architectural design, softened by warm colors, wood, brick and more climbing ivy. It's modern but still cozy enough to bring a date.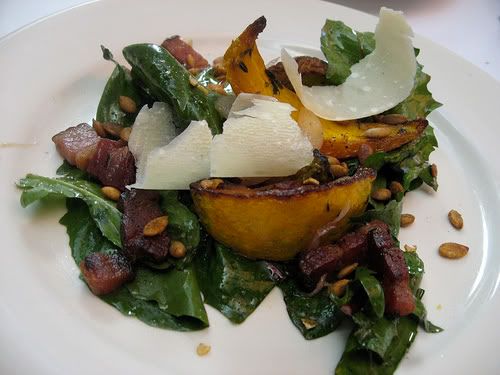 We started off with the roasted kabocha squash with dandelion, bacon, Parmesan and pepitas. It was good! Everything was balanced and worked together- the crisp of the bacon added the crunch to the soft texture of the squash; the sharpness of the Parmesan cheese played off with the subtle roasted flavor of the kabocha.


I went with the Niman Ranch Steak Frites- skirt steak with arugula salad, béarnaise and herbed french fries. (Yes, I went with the steak and fries.) As heavy as that sounds, it was a delicious, light interpretation of "comfort food", leaving me full and satisfied but not heavy and guilty =)
I ordered it medium well, when I think I should have ordered it medium.

We were also blessed with having a server who was knowledgeable of the food and it's preparation. It's an added bonus to know how your meal was prepared and if there are any suggestions that would make your experience heightened.

The price is very reasonable too. My plate is comparable to a steak plate from Claim Jumper's, but instead of having an okay plate with a doggie bag, I had an exceptional well-thought out meal.

I highly recommend.
outta 5
(All pics by arnie g. of inuyaki.com)